I'm linking up with Linda at Tales of a Fifth Grade Teacher for her Advice for New Teachers Linky Party! (I'm loving that I've figured out how to do this.)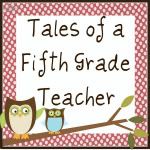 Go on over to her blog to read her advice for first year teachers! Here's the advice I'd like to add to hers.
1. Don't be afraid to change things. You will change a lot of things a lot of times. I changed my seating arrangement, I pulled posters off the wall and put them in a more visible location, I added morning meetings in the middle of the year, and I'm pretty sure we revamped a rule or two. It's okay to do this, not a sign of weakness. Just be honest with the kids and say, "This isn't working for me or for us, and I think this should change to make our classroom a better place." They'll get it. I STILL change things up during the year when I need to do it!
2. Tell the kids up front that even though you're pretty sure you're a genius, you don't know everything. There are some kids who will want to correct you at times, and there are some kids who will ask you a bajillion questions. This statement lets them know that you aren't perfect, and perfection is not expected. It'll be a relief for the kids. If you don't know the answer to a question, admit it and suggest they go look it up and share what they find with the class. If a student corrects you when you've made an error (math, spelling, or otherwise), be able to laugh at yourself! When that happens to me, I tell them it's because I need a little more caffeine, go sip my Diet Coke, and move on with my life. It happens!
3. At the beginning of the year, ask your parents to tell you about their child. I don't want them to actually tell me face-to-face; I just usually send home a sheet of paper with a penny graphic on it, and I call it "A Penny for your Thoughts." On this paper, the directions ask the parents to tell me everything that they think I will need to know about their child to make him/her successful. I take them home to read them over the weekend. I end up learning a lot about my students, and it makes the parents feel more comfortable with you! Win-Win! Click HERE to download a copy.
Veteran teachers, what's YOUR advice for the new teachers this year? Comment below, or link up with Linda!